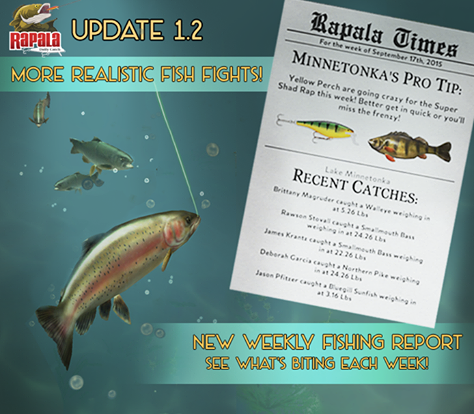 MINNEAPOLIS – May 26, 2016 – Just in time for some fishing openers, Concrete Software has updated Rapala® Fishing Daily Catch with some significant new changes to help keep you hooked!
Lucky Strike
Lucky Strike is a daily mini-game that take place on dozens of lakes that will give out tons of currency!
Tip Sheet
Fish will now act like real fish in the real world — their appetite changes. One week they love a lure, the next week they don't. Have the right lure on the right day on the right lake and it will be like shooting fish in a barrel… only, you know, better. And, to help you navigate the finicky fish a newsletter-style Tip Sheet will tell you what's bitin' what.
Purchasable Lakes, Locations and Lures
We now allow for lakes, locked locations on a lake that you are on, and lures to be purchased, even though you may not have the appropriate Reputation Point level.
Reputation and Currency Payouts
A big change to Reputation and Currency Payouts means that it will now be much easier to progress!
Fish Fight
Big changes to the fish fighting behavior AI. Or, if you're in Canada or Great Britain, behaviour AI. Bigger fish are meaner, panfish are way easier. Size matters.
Legendary Names
Legendary Fish are very rare and are, well, legendary. As such, they now have unique names to fit their unique status.
See What You Did
It's now possible to more easily see what you did in a previous tournament, to see how your fish measured up.
Rapala® Fishing Daily Catch…. Take a fish boating!