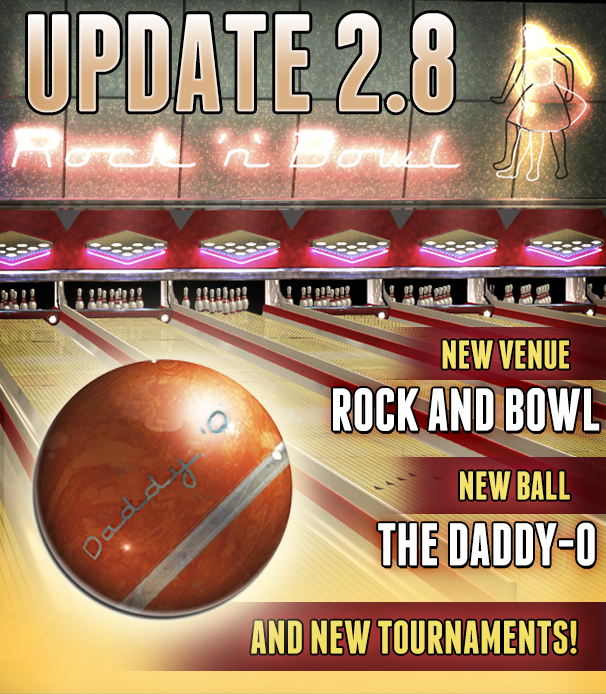 MINNEAPOLIS – May 26, 2016 – Concrete Software has updated PBA® Bowling Challenge. We've made improvements and added a new venue, new ball, and new tournaments!
New Venue – Rock 'n' Bowl
One o'clock, two o'clock, three o'clock Rock… and Bowl! Rock 'n' Bowl, a brand new venue will have you rockin' n' rollin' with the brand new ball —  The Daddy-O — in no time!
Multiplayer Improvements
Multiplayer game fairness with a new and improved throw timer. Now, if you're playing multiplayer games, you should be there to bowl, not wait around.

We increased the number of last stage multiplayer challenges by ten-fold and got rid of the dreaded 20 Different Balls Challenge.
Bonus Lanes
We streamlined Bonus Lanes and gave each one it's own logo! Previously, some were for sale, and some weren't. Meanwhile, unlocking some as practice lanes cost more than unlocking the whole circuit! Madness! Now all Bonus Lanes are premium lanes — unlock them in the bonus section — but are cheaper than they were as practice lanes. If you completed a game in a circuit prior to this update, you will get the venue for free with this update as you will have been grandfathered in.
Bug Fixing
We stomped on some bugs!

Fixed issues with video ads not showing.