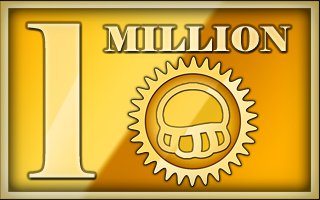 Jellyflop!™ Reaches 1 Million Downloads in 1 Month
Minneapolis, MN – November 28, 2012 – Concrete Software, developers of rock solid mobile games has surpassed one million downloads of its newest Android title, Jellyflop! in less than one month.
Since the release of Jellyflop!, it has been played over 3 million times and has a 4.4 out of 5 star rating on Google Play with more than 9,000 ratings.  The game received great reviews on release which started getting Jellyflop! some nice download numbers, but it really took off when Google featured the game on Google Play.
"We are so excited to have a game we worked on for so long really take off like it has." said Keith Pichelman, CEO of Concrete Software.  Jellyflop! was in development for Concrete Software for over a year and has been their largest project to date.  "Jellyflop is a cool new physics game that adds a bit more creativity for the genre," said Kim Barloso of Android Rundown, "playing it feels refreshing and fun."
About Concrete Software
Since 2003, Concrete Software has been creating your favorite games across all major mobile platforms, including iOS, Android, BlackBerry and Windows Phone. Fun, challenging, addictive — Concrete Software makes rock solid games. Find out how at www.concretesoftware.com.