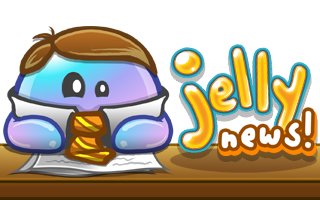 Minneapolis, MN – December 18, 2012 – Concrete Software, developers of rock solid mobile games is pleased to announce the first major content update for Jellyflop! on Android.
The update includes 40 extra levels of gameplay, a significant addition to the 100 levels in the initial release, that can be unlocked by collecting feathers throughout the game.
The new levels also take advantage of a new mechanic making its debut, the Boost Line. Most surfaces in Jellyflop! cause the game's hero, Jelly the jellyfish, to bounce or flop, but the Boost Line reacts differently. The Boost Line draws him in and speeds him along until he reaches the end of the line, adding a new tool in Jelly's continuing search for feathers and creating some unexpected and hilarious physics results in the process.
And since it is important for a jellyfish to look his best while tumbling through the new levels, 4 new hats have been added to his wardrobe. Unlocked by collecting water droplets throughout levels, the hats are a popular aesthetic feature that lets users customize Jelly's appearance in the game.
"We've had great success so far with Jellyflop! on Android and we've been listening to our fans," said Keith Pichelman, CEO of Concrete Software. "Hats have been very popular and of course more levels and mechanics are always a good thing. We're looking forward to adding more mechanics, more levels, more hats, more of everything in future updates."
The Jellyflop! 1.1.0 update is available now on Google Play.
About Concrete Software
Since 2003, Concrete Software has been creating your favorite games across all major mobile platforms, including iOS, Android, BlackBerry and Windows Phone. Fun, challenging, addictive — Concrete Software makes rock solid games. Find out how at www.concretesoftware.com.