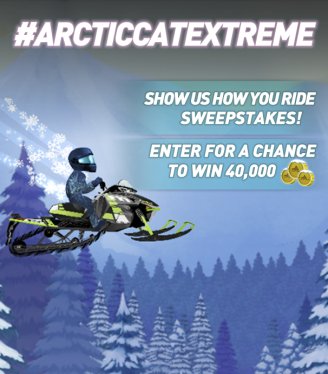 Minneapolis- May 6, 2016
Concrete Software has launched a social sweepstakes to celebrate the success of their newest mobile game Arctic Cat® Extreme Snowmobile Racing, available for Android and iOS devices. The #ArcticCatExtreme sweepstakes, presented with Arctic Cat, invites participants to share a screenshot of their ride in Arctic Cat Extreme Snowmobile Racing for a chance to win 40,000 Cat Cash in-game.
"Arctic Cat Extreme Snowmobile Racing recently hit 1 million downloads and we are excited to see the number continues to climb," commented Keith Pichelman, CEO of Concrete Software. "We also just released a new update so there is a lot of new content in the game including new sleds, characters, and levels for riders to enjoy. This sweepstakes gives participants a chance to win 40,000 Cat Cash and stock up on new gear!"
The sweepstakes is easy to enter. After downloading the game from Google Play or the App Store, players simply take a screenshot showing their skills in Arctic Cat Extreme Snowmobile Racing, and then must post it to Facebook, Instagram, or Twitter with #ArcticCatExtreme, while tagging Concrete Software and Arctic Cat Snow. A random drawing will be held on May 13, 2016, where three grand prize winners will each win 40,000 Cat Cash (in-game currency). The grand prize winners will be announced on Concrete Software Facebook and other social media pages. The sweepstakes runs through May 12, 2016. For complete sweepstake details, please visit: http://bit.ly/ACOfficialRules.
Arctic Cat Extreme Snowmobile Racing is available to download for free from Google Play and the App Store here: http://bit.ly/ACDownloadLink.
About Concrete Software
Concrete Software is an innovative and growing mobile game development company. Since 2003, Concrete Software has been creating rock-solid games across all major mobile platforms, including iOS and Android. Their game PBA Bowling Challenge has been a top-ranked game with over 15 million downloads, and they have continued to build upon their success with NHL Hockey Target Smash, Rapala Fishing – Daily Catch, and Arctic Cat Extreme Snowmobile Racing. For more information on Concrete Software, please visit www.concretesoftware.com or www.facebook.com/ConcreteSoftware.
About Arctic Cat
The Arctic Cat brand is among the most widely recognized and respected in the recreational vehicle industry. The company designs, engineers, manufactures and markets all-terrain vehicles (ATVs), side-by-sides and snowmobiles, in addition to related parts, garments and accessories under the Arctic Cat® and Motorfist® brand names. Arctic Cat Inc.'s world headquarters is located in Minneapolis, Minnesota. Its common stock is traded on the NASDAQ Global Select Market under the ticker symbol "ACAT." More information about Arctic Cat and its products is available at www.arcticcat.com.