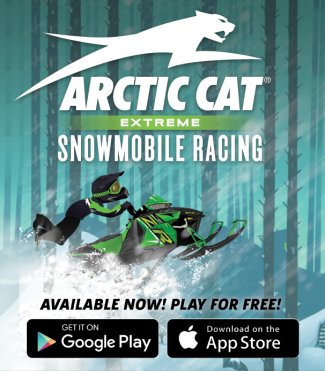 MINNEAPOLIS – March, 3, 2016 – Concrete Software has released Arctic Cat® Extreme Snowmobile Racing, a one-touch, snowmobiling game available on iOS and Android smartphones and tablets. Travel as far and as fast as possible through endless scenic winter environments. Conquer hills, maneuver moguls, pound through powder, and clear mountain gaps. Teaming up with Periscope, Arctic Cat's agency of record, to incorporate specs and graphics to make the sled models as accurate and authentic as the real thing. Upgrade real Arctic Cat® sled models to catch big air and pull off sick tricks. Unleash your inner cat with customizable sled skins and characters and gear up with authentic Arctic Cat® sleds.
The simple controls of Arctic Cat® Extreme Snowmobile Racing will get players riding quickly.  The game also features a unique trick system that will allow players to pull off big air and perform some dazzling tricks for even bigger rewards. Players can also deepen their game experience with dozens of collectable characters and sled skins  that show off style and even change game play.
Arctic Cat® Extreme Snowmobile Racing is free to download today on iPhone, iPad and iPod Touch via the App Store, as well as Android devices through Google Play. It supports unlimited snowmobiling – play all day without timers or energy restrictions!
For more information on Arctic Cat® Extreme Snowmobile Racing, please visit www.facebook.com/ConcreteSoftware.
About Concrete Software
Concrete Software is an innovative and growing mobile game development company. Since 2003, Concrete Software has been creating rock-solid games across all major mobile platforms, including iOS and Android. Their game PBA Bowling Challenge has been a top-ranked game with over 15 million downloads, and they have continued to build upon their success with NHL Hockey Target Smash, Rapala Fishing – Daily Catch, and now the release of Arctic Cat Extreme Snowmobile Racing. For more information on Concrete Software, please visit www.concretesoftware.com orwww.facebook.com/ConcreteSoftware.
About Periscope
Periscope is one of the top five independent creative agencies in the nation, with 500+ employees. Based in Minneapolis, with global offices in Hong Kong, Delhi and Toronto, Periscope offers a full spectrum of marketing services to a wide range of acclaimed brands including Arctic Cat, BASF, Brach's, Bridgestone, Buffalo Wild Wings, Cox Communications, ExxonMobil, Great Clips, Target, Toro, UnitedHealth Group, Welch's and more. Visit us at periscope.com.
About Arctic Cat
The Arctic Cat brand is among the most widely recognized and respected in the recreational vehicle industry. The company designs, engineers, manufactures and markets all-terrain vehicles (ATVs), side-by-sides and snowmobiles, in addition to related parts, garments and accessories under the Arctic Cat® and Motorfist® brand names. Arctic Cat Inc.'s world headquarters is located in Minneapolis, Minnesota. Its common stock is traded on the NASDAQ Global Select Market under the ticker symbol "ACAT." More information about Arctic Cat and its products is available at www.arcticcat.com.